Well, none of us saw that coming.
We haven't of late been blogging very often – it's actually been around two years since our last post (!) – mostly because we've been too busy actually running our adventure activity holidays here at Lake Skadar and in the rest of Montenegro in the season, and building awesome additions like our swimming pool, yoga deck and kayak shed in the winter!
2020, as everyone is now painfully aware, has been different. As I write this, European air travel has been indefinitely suspended and phrases like "self-isolation", "quarantine" and "lock-down" have entered the everyday lexicon. We have almost certainly lost all bookings for April, May and June, and the jury is still out for the remaining three months of our season.
This is obviously a terribly difficult time for everyone and the travel industry in particular. As a small, family-owned business, we have been successfully running sustainable, low impact holidays in Montenegro for over a decade and some of our partners will feel the effects of a fallow season even more than we will. We own our activity base, 'Villa Miela' outright and employ only ourselves, so our operations are just on pause while we all come together to protect lives. Even so, facing no income for a portion or even all of this year's season will be challenging for our family and our guides.
Montenegro has actually responded brilliantly to the current conditions. It was the last country in Europe to succumb to the virus, and the government here implemented strict social distancing measures in advance to ensure that what has happened in Italy and Spain will hopefully not happen here. Podgorica is under partial lock-down, while all but non-essential travel is the message for those of us out in countryside. Supermarkets are allowing only a certain number of customers in at a time and the shelves are – for now – well stocked (including loads of loo roll), with no panic buying and a palpable sense of social responsibility among all residents. Bratstvo i Jedinstvo indeed!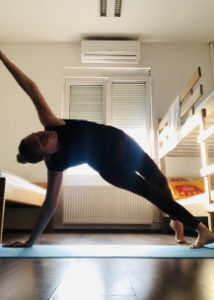 Our family has had one small extra issue to overcome during this crazy time; by chance, Emma was in the UK for a family funeral and her flight home to us was cancelled. It took a lot of string pulling, but Montenegro's enviable "one degree of separation" network allowed us to get her on a repatriation flight back (usually reserved only for MNE nationals), which was instigated at speed by Montenegro's surprisingly well-organised government. This has meant we've avoided having Emma stranded for months in the UK – but the catch is that she's now on Day 5 of a 14 day mandatory state quarantine in Podgorica!
Fortunately, we have with us two wonderful volunteers, Sam and Beth, who are stuck with us until the travel restrictions are lifted. They have been doing amazing work helping us prepare our grounds at Villa Miela while Emma is trapped in her state-sponsored cell – I mean, room – and our children are navigating their way through remote learning via Skype conference calls. Meanwhile, I try and run the business in a corner of our living room.
We would like to say a massive thanks for all the messages of support we've received, especially from our guests-to-be, who would probably rather contract the virus itself than have to give up their holiday! We are offering postponements and relaxed payment clauses, which you can read about here. It's truly heartening to see how communities both in the UK and here in Montenegro are pulling together and helping each other through what a lot of people will find a very challenging financial period. The beauty of this amazing country will endure and will still be here when things get back to normal. I mean, look what we woke up to at Villa Miela this morning!